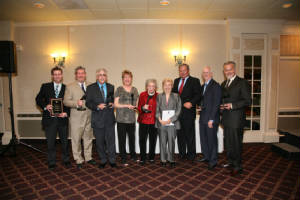 RIRHOF Class of 2011 - from L to R:
Blair Fish, John Rooke, Larry Kruger, Marylou Pearson, Florence Markoff, Lydia & Tom Toevs, Chuck Wilson, Geoff Charles (David Jones not pictured)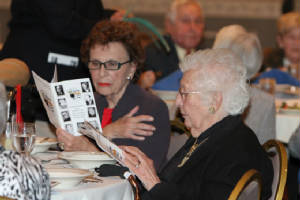 Catching up on "who's who" in the program!
Thank you to Navigant Credit Union's Tim Draper for his support of the RIRHOF
RI Special Olympian Henry Moretti introduces himself - thanks to the SORI volunteers for their help and support!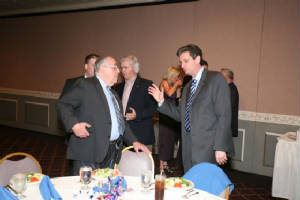 Former URI voice Jim Norman and RIRHOF Board Advisor Vin Ciavatta
RIRHOF Board member John Colletto welcomes the crowd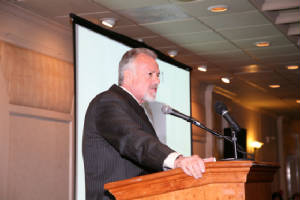 WHJY's Geoff Charles acknowledges his entry into the RIRHOF with Big Blue Bug tales and more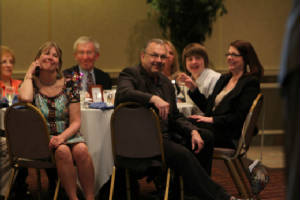 David Jones, his family and friends enjoy the evening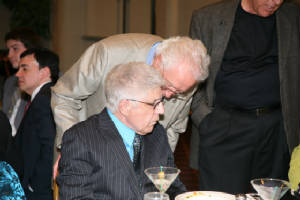 HOF'er Gene DeGraide ('08) has some congratulatory words for Larry Kruger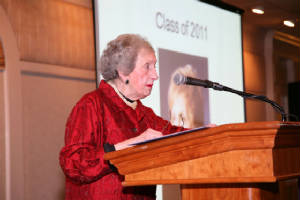 Florence Markoff was a delightful speaker - great wit and personality. A true pioneer in RI radio!
Marylou Pearson, Ed Pearson's daughter, accepted on behalf of her late father. Pearson's popular programs aired on WEAN-AM and WPJB-FM in the '40's, and into the '70's!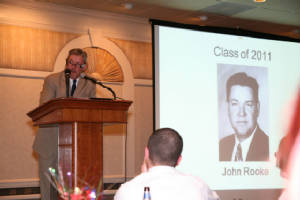 Holy Moly! The longtime "voice of the Friars" and sports radio fixture John Rooke steps up to accept his induction
Accepting for Bud Toevs, his wife Lydia, and son Tom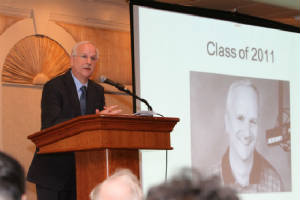 A pioneer for sports talk radio - Chuck Wilson - moved from RI right to the network level at ESPN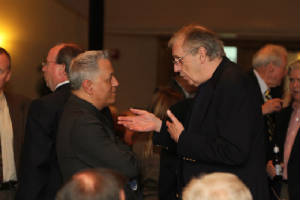 A couple of "pros," Tony Bristol and HOF'er Class of '09 Jimmy Gray
A packed house at the West Valley Inn - as always!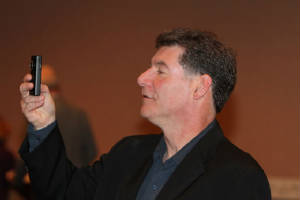 Class of '10 HOF'er Ron St. Pierre doesn't miss a minute of the action!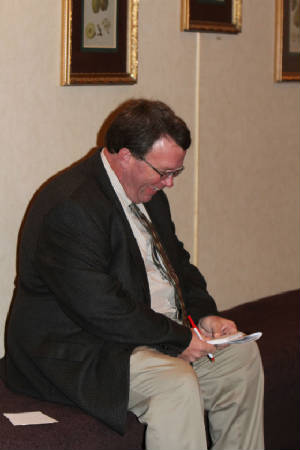 Looks like we caught our emcee, '10 HOF'er Steve McDonald, laughing at his own jokes...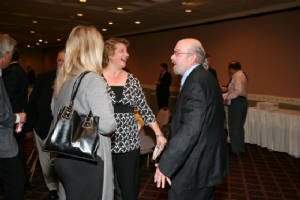 Citadel's Karen K and Larry Bonoff share a laugh over a memory - or two!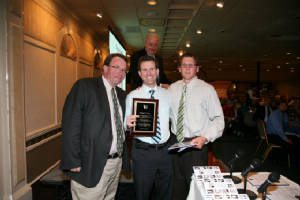 The 1st Shepard Award recipient - Bob Fish - accepted by his sons Blair and Brett, with Steve McDonald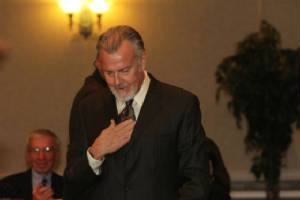 Geoff Charles receives a big ovation for his induction into the Hall!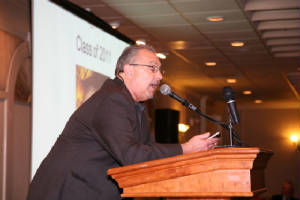 WWLI's David Jones has plenty of stories from more than four decades in the RI radio business - congrats David!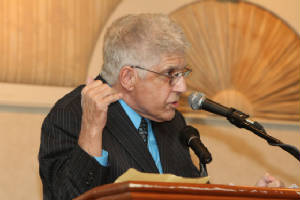 Former WPRO morning man Larry "Ice Cold" Kruger had those "Salty" stories to tell...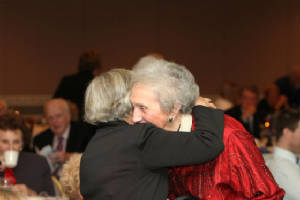 Florence, there's a word for it - congratulations!
John Rooke, representing the RIRHOF Board, with Marylou Pearson
Future voices? John Rooke's sons, Ryan (left) and Austin, share a moment with their dad
The awards table for the recipients included citations of merit from Governor Lincoln Chafee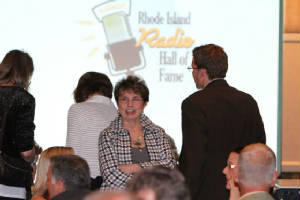 Wow - this whole thing is pretty cool!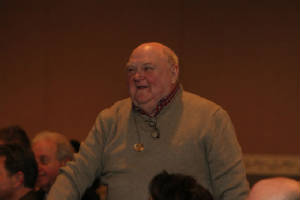 King Arthur Knight was in the house!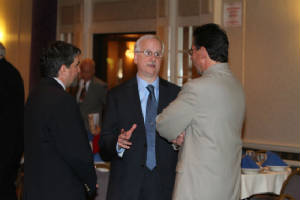 It's always time for Chuck Wilson on Sports!