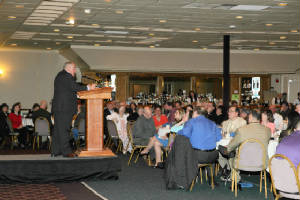 The room was packed - once again - at the West Valley Inn!
The 2012 Shepard Award winner, Gary Berkowitz, smiles at his introduction into the Hall of Fame!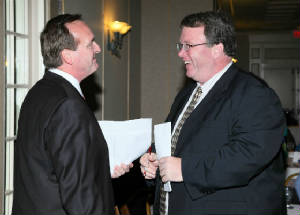 Board members Joe Lembo (L) and emcee Steve McDonald go over the pre-show notes...batten down the hatches...
2012 RIRHOF inductee Tony Bristol with RIRHOF Board member and fellow former PRO-FM softball Blooper John Colletto.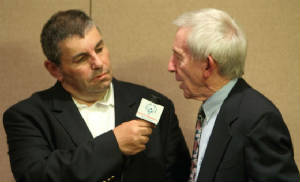 Special Olympics' HOFer Henry Moretti interviews Class of 2008 RIRHOFer Charlie Jefferds for the SORI TV Magazine.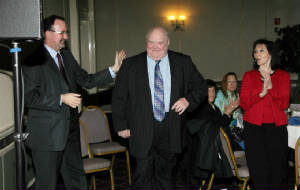 King Arthur Knight is presented for induction into the RIRHOF - well deserved!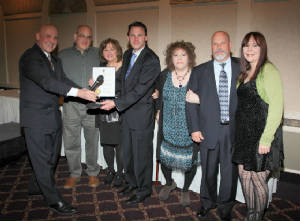 Bob LaChance's family celebrates his induction into the RIRHOF, following a storied career on the air, and then in sales management.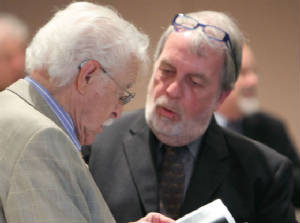 Dave Kane corners inaugural Class of '08 HOFer "Gentleman" Gene DeGraide.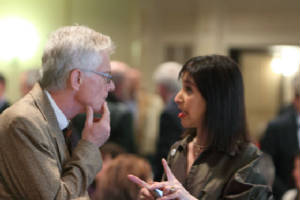 Brad Pierce listens intently to RIRHOF Board member Deb Rich's story.
WOON's Dave Richards has been at the same station, serving the community in the Blackstone Valley for 41 years...and counting...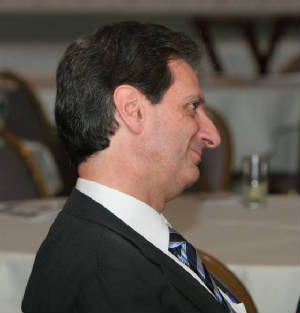 The "voice" of the RIRHOF, Vin Ciavatta (a.k.a. Vin E. McCoy) watches as friends and fellow radio pros speak at the induction ceremony.
Thanks to Gary Furtado and our 5-year presenting sponsor, Navigant Credit Union!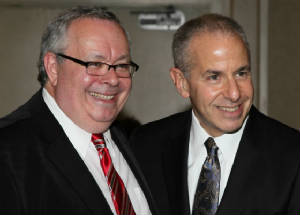 Hall of Famers who worked together at 92 PRO FM to make it famous...Giovanni and Gary Berkowitz.
He once carried album crates for several HOFers at WPRO...Tony Bristol is an example of "if you dream it, it can happen!"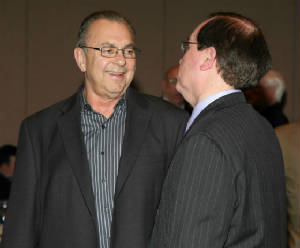 Class of 2011 HOFer David Jones visits with former WPRO program director Tom Cuddy.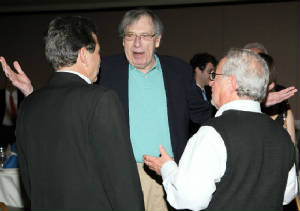 Who better to tell a story than the Class of '09's Jimmy Gray? Bet it was a whopper...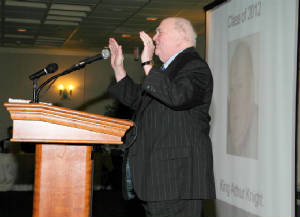 As he once did so well on the radio, KAK holds court over the proceedings at the West Valley Inn...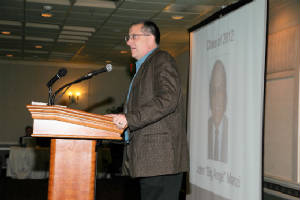 George Babcock accepts induction for the late John "Big Ange" Manzi, whose on-air personality was often bigger than life...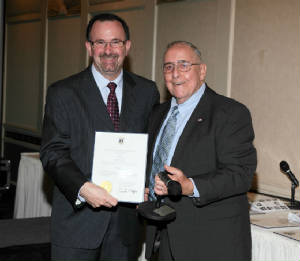 John Colletto with the original "Voice of the URI Rams," Jim Norman...who called almost 1300 URI football and basketball games, without missing one!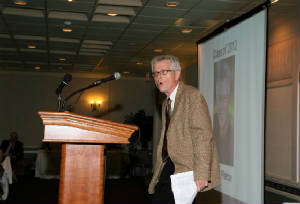 You are kidding me! Brad Pierce has gone on to great national success at Dial Global Network, coming from his days as Shadow Morgan at WICE.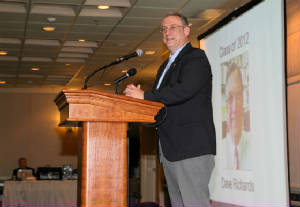 Still on the air, and running the day-to-day operation of full-service WOON-AM in Woonsocket, Dave Richards accepts his induction.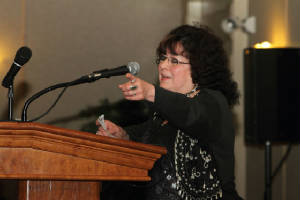 The daughter of the late Eddie Zack, Dottie Zack, points to several members of her father's band...made famous as Eddie Zack and the Dude Ranchers.